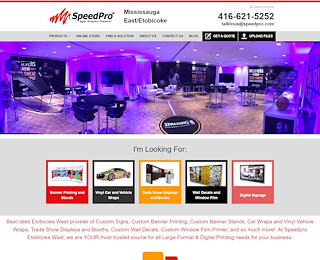 Looking to have new store signs in Mississauga made for your business? If so you came to the right place, Speedpro Imaging. We create custom signs for any and all types of business. We use state of the art printing equipment and inks so that the colors remain vivid.
Well-designed and positioned store signs can motivate potential customers to walk in the door to check out what you have to offer. This is why it's crucial that you work with a printing company specializing in store signs Mississauga. The right sign is key to selling, informing and directing customers.
You can also use store signs to help people find your shop. If your store is a bit hard to find (if it's in the basements or a hidden corner, for example), you can employ catchy store signs to show customers the way. Another way to use store signs is to inform shoppers of information such as new promotions and discounts. Nothing quite like drives in business like a good deal! If you anticipate that you will be holding an annual or semi-annual sale, work with a company offering store signs Mississauga to create signs that for these special events. You can also announce any changes in store hours using signs.
Are you opening a new branch? Announce it many months ahead using store signs Mississauga. A 'Coming Soon' sign will create interest and anticipation, and will help to get people to talk about you.
If you're ready to get started on that store sign project, talk to our experts here at Speedpro Imaging. We offer an extensive range of store signs that will let you stand out from neighboring stores. We are passionate about quality and design, and will do all we can to ensure that your sign comes out perfect.
Store Signs Mississauga
Speedpro Imaging - QEW & 427
416-621-5252
236 North Queen Street Etobicoke, ON M9C 4Y1
View Larger Map