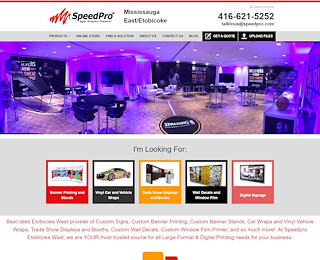 Speedpro Imaging produces high quality high resolution car wraps in Mississauga. Car wraps can be used in two methods. First they can act as a great moving billboard. Second, car wraps can be used to totally trck out your car with a custom look.
Vehicle wraps when used correctly can be a very memorable advertising tool. Use it to spread your message! To get the highest quality, work with a company that specializes in car wraps Mississauga like Speedpro Imaging.
Perfect for sales, delivery, and service vehicles, well-made car wraps can be very powerful branding tools. Here are just some of the reasons why:
Attractive vehicle wraps allow your company cars to stand out in a sea of traffic. Drivers are not likely to notice a plain white car or delivery van on the road, but they are most likely to see a vehicle wrap.
With car wraps, it's also possible to reach thousands (or even hundreds of thousands) of potential customers per month, depending on how many cars and service vehicles you have, how often they travel, and how far they go. Some businesses claim to gain more new customers with vehicle wraps than websites! The best thing about car wraps is that unlike other forms of advertising that 'invade,' they attract attention without the pushy, in-your-face approach. Many people look at vehicle wraps voluntarily because they are attracted to the design, and don't mind being advertised to.
Unlike adds and billboards that you have to pay for every day, week, or month that your ads run, car wraps Mississauga only require a one-time payment for printing and installation. You are essentially making a small initial investment and getting long-term advertising.
Car Wraps Mississauga
Speedpro Imaging - QEW & 427
416-621-5252
236 North Queen Street Etobicoke, ON M9C 4Y1
View Larger Map